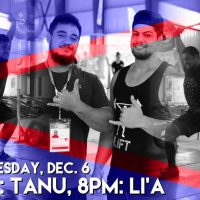 Tanu Jungblut has won a bronze medal in weightlifting at the Mini Pacific Games in Vanuatu.
He captured the medal in snatch yesterday in Port Vila.
Li'a missed out of medal contention in both the weight classes he competed in, placing fourth.
Ed Imo, President of the American Samoa National Olympic Committee reports that Tanu was close in both lifts and  total but the same lifters he competed against in the Oceania were ahead of him.
Because this is Lia's second international competition it is a very good turn out for him, according to Imo.
The lifters he competed against were previous champions in Oceania and his lifts are not far from the champions.
The weightlifting team will be leaving for home on Saturday.
Meanwhile the 3 on 3 basketball team have arrived in Port Vila and are getting ready for the first day of competition.