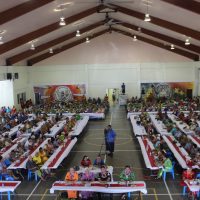 They danced, they sang , showed a bit of leg and strutted their stuff.
Four men and four women competed in the inaugural Mr & mrs Senior Citizen pageant, organized by the Territorial Administration on Aging (TAOA) Office.
It was a pageant  like no other in the territory.
And the crowd of about 1,000 who filled the Department of Youth and Women Affairs hall in Pago Pago  just loved it.
Governor Lolo Moliga and First Lady Cynthia Moliga, House Speaker Savali Talavou Ale, Secretary of Samoan Affairs Mauga and department directors were in the audience.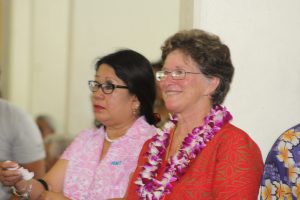 Samoa's Consul General Auseugaefa Vaasatia Poloma was also present.
After a prayer by Reverend Faataape Faataitai, Governor Lolo Moliga thanked the elderly fathers and mothers for their tapuaiga in the affairs of their families, villages, churches, government and territory.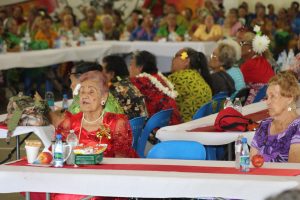 He said  when he and Lemanu took office in 2013, they wanted to elevate TAOA so services for senior citizens could be improved.
Lolo said it was fitting that government events to celebrate the festive season begin with this special gathering for senior citizens.
He said this was a way for the government and territory to thank and honor them,.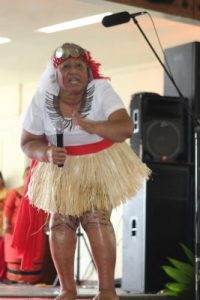 TAOA Director Mrs Evelyn Lilio Satele expressed appreciation to government  leaders  directors and businesses who contributed to today's event.
Then the competition started and it was enjoyable from start to finish,with all eight contestants having fun on stage…the women especially.
The contestants  were egged on by the humorous emceeing of the governor's Chief of Staff Fiu Johnny Saelua,
The contestants appeared in attire from the 50;s. performed a talent, did a siva and   answered a question.
Judges for the competition were Mrs Fiasili Haleck, Mrs Leala Pili, Arona Maiava and Pati Pouesi,
And the first Mr Senior Citizen is Toese Sefulu, sponsored by Morris Scanlan Service Station and the first Mrs Senior Citizen is Manuia Lacambra, sponsored by the Department of Human Resources.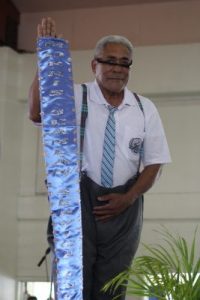 The event ended with lunch and distribution of gifts for all the snior citizens present, donated by ASG  departments.