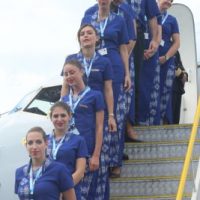 The Samoa Government has ordered all public servants traveling overseas to use the recently launched Samoa Airways for their trips.
An official Cabinet decision was circulated last week urging all government travel to be on the new national carrier on flights to and from New Zealand and Australia.
It also urges all those traveling on sponsored trips to ask the sponsor to book travel on Samoa Airways.
The airlines has apparently not received any funding from government to start operations, but questions have arisen after allegations that it is costing $US500,000 to lease the plane it now operates.
At the official launch PM Tuilaepa said "the government has not given the airline any funds to run it as you must run it as a business."