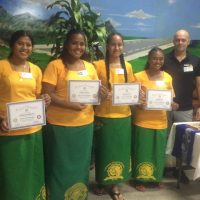 The Rotary Club of Pago Pago has worked with Leone High School to launch a club to help develop leadership in youth between the ages of 12 to 18.
This past weekend, Rotary hosted an induction  ceremony welcoming the new interact officers: Sailimalo Tafalesolo, Frances Nautu, Serenalia Iona and Naomi Aasa.
Play Audio
Interact President Sailimalo Tafalesolo.
The Club intends to  work with Rotary to open  their community swimming pool later this year.