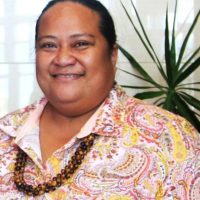 Samoa's Telecommunications Regulator is meeting over the next two days with the territory's mobile telephone providers to try and iron out interference on mobile signals on the eastern side of Samoa's Upolu island.
Mrs Unutoa Auelua Fonoti told KHJ News that the interference has been causing problems since May.
As American Samoa is under the jurisdiction of the Federal Communications Commission, the regulator wrote to the federal agency to try and get assistance in alleviating the mobile broadband problem.
Mrs Fonoti said they have not heard back from the FCC but they are keen to get to the bottom of this, even though Samoa doesnt have any control over telecommunications spectrum use in the territory.
The interference causes problems for Bluesky subscribers in Samoa and tests have indicated this is emanating from the eastern side of American Samoa's main island of Tutuila.
The regulator says they have evidence of this interference and while they cannot "force" a solution, she is hoping on the Samoan tradition of "va fealoa'i" or mutual respect to reach an amicable solution for all concerned.
Fonoti said she meets today with Bluesky and will meet the American Samoa Telecommunications tomorrow.