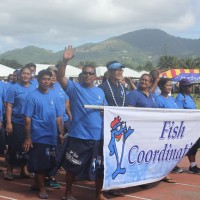 Last year it was a toy drive for children of employees of Samoa Tuna Processors who lost their jobs when the cannery closed.
Now, Tapumanaia Galu Satele and his family are organizing a food drive for employees of StarKist Samoa who will be without work for 5 weeks when that cannery shuts down for installation of equipment and other upgrades.
Fifty-five gallon drums have been placed at various locations around Tutuila to collect canned food and dry goods like rice, sugar and saimin to be distributed to Starkist Samoa families.
The drive started Monday and will continue until October 28th.
Play Audio
Tapumanaia has another goal with the Love thy Neighbor food drive.
Play Audio