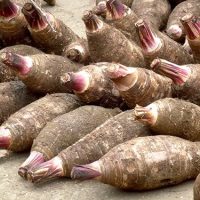 The Department of Agriculture needs sufficient time to inform local stores which are importing taro from Samoa of new conditions and requirements that DOA setting before it formally lifts the ban on taro from Samoa.
Director of Agriculture Filifa'atali Mike Fuiava says he's met with counterparts in Samoa to discuss American Samoa's new requirements that taro suppliers from Samoa must meet.
One of those is that only taro farmers will be allowed to send their taro across, no more middle men.
The director noted that the new conditions are precautionary measures in order to assure food safety.
Filifaatali said an announcement will be issued through the media to notify the public about the lifting of the taro ban.
The ban began in May due to an unidentified disease that was causing taro roots to rot before they mature.
The agriculture director has continued the ban saying that test results of samples sent by Samoa to Germany were not conclusive.
Filifaatali maintains that there's enough taro supply in the territory to meet public demand and also cater for the School Lunch Program.
But a major taro producer in the territory, Atualevao Asifoa said at a meeting with the director a month ago that local supplies are not enough.
This is also the position of restaurant owners.
The Agriculture Director said the main reason why many local store owners prefer taro supplies from Samoa is because its cheaper and the supply is consistent.