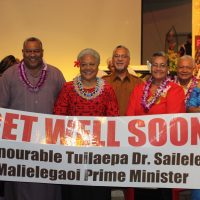 Doctors are still conducting checks in New Zealand on Samoa Prime Minister, Tuilaepa Sailele Malielegaoi since being medivacced late last week.
These checks were recommended by doctors in Samoa.
In a statement yesterday the Prime Minister said the checks were progressing well.
"In their view, doctors are saying they will have a clearer picture of the general situation of the checks by the end of this week," said Tuilaepa.
The PM  was rushed to New Zealand by an air ambulance last Thursday after being admitted to the Intensive Care Unit of the Tupua Tamasese Meaole Hospital on Wednesday.
Tuilaepa was due in American Samoa last Thursday for talks with Governor Lolo Moliga and to launch his biography, PALEMIA, the next day.
He watched the launch from his hospital bed in Auckland and saw a huge sign held by those who attended saying Get Well Soon Honorable Tuilaepa Dr. Sailele Malielegaoi Prime Minister.