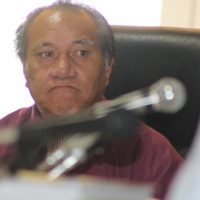 The House of Representatives has held off third reading of the Fiscal Year 2018 supplemental budget bill until the remaining revenue measures from the administration are acted on.
The Speaker Of the House called a break in the House session today while members discussed how to proceed with the supplemental budget bill given that the Senate version is different from that of the House.
The Senate approved the bill without any changes while the House reduced the amount of the bill by $331,500 taking out salaries of new staff who were to collect the 7% sales tax.
The sales tax bill has been tabled in both chambers.
During the break, the House sent a communication to the Senate informing that chamber of the House's decision on the supplemental budget bill.
The supplemental budget is to be funded with monies raised from the various revenue bills that the administration asked the Fono to approve during this session.
Earlier Speaker Savali met with the Chairmen of the Budget and Appropriations Committee, Rep. Vailiuama Steve Leasiolagi and Ways and Means, Committee Chairman, Rep. Lavea Fatulegae'e Mauga to discuss the status of the governor's revenue bills.
They decided then it was best to hold off on final reading of the supplemental budget until the revenue measures have been acted on.
Meanwhile, Senate President Gaoteote Palaie recommended that committees to which remaining revenue bills were assigned report them to the floor tomorrow so they can be reviewed before the current legislative session closes Friday.'
The Senate has yet to vote in second reading on the bill to increase wharfage and dock charges.
It is also reviewing the House version of the 1% alternative minimum business tax.