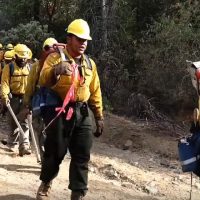 As wildfires are causing death and destruction across California, a team of fire fighters from American Samoa are attracting attention because of the way they are coping with their life threatening task.
A colleague shot a video of the crew from the National Park of American Samoa coming down from the forest after a hard days work.
The videographer said in his post on You Tube, "Take a break from the depressing national news and watch the best thing you will see today."
It shows a fire crew from Samoa apparently walking out of the forest, perhaps at the end of the day.
And they are singing, acapella, a hymn — with some of the firefighters singing harmony.
It was filmed at the Helena-Fork Fire on the Shasta-Trinity National Forest in northwest California.
The video was posted September 27, 2017 by Lori Light.
Click here to view http://wildfiretoday.com/2017/10/05/the-best-thing-you-will-see-today/
—
La Poasa-Vitolio