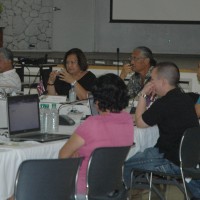 The Western Pacific Fishery Management Council, which regulates fishing in waters of Hawaii, American Samoa, Northern Marianas and Guam is meeting in American Samoa October 17 to 19.
Major agenda items for American Samoa include the Long Vessel Prohibited Area, and Longline Permit modifications.
Aquaculture management, the 2018 annual catch limits for Hawaii coral reef fish, and annual sea turtle interaction limits in the Hawaii based shallow set longline fishery will also be discussed.
The Council meeting is preceded by a series of meetings of advisory councils and sub committees, all under the umbrella of WPFMC.
The Scientific and Statistical Committee meets October 10-12 at Aqua Kauai Beach Hotel, Hawaii.
The American Samoa Fishery Ecosystem Plan (FEP) Advisory Panel Meeting takes place at Sadies by the Sea on October 14.
The American Samoa Regional Ecosystem Advisory Committee Meeting is on Oct. 16, at Lee Auditorium.
The Executive and Budget Standing Committee meets at Sadie's by the Sea, on October 17 and the Pelagic and International Standing Committee meeting is at Lee Auditorium, also on October 17 .
The Western Pacific Fisheries Management Council is scheduling a  public hearing about the American Samoa Large Vessel Prohibited Area and American Samoa longline permit modifications on October 17  at Lee Auditorium from 7:30 to 9:30 pm
There'll also be a Fishers Forum where the artwork of high school students on the theme Fishing, Food, Life. Future will be featured.
That will be held October 18 at Lee Auditorium from 6pm to 9pm.
American Samoa's representatives on the Council are Archie Taotasi Soliai and Christinna Lutu Sanchez.
Go to wpcouncil.org the website of the Western Pacific Fishery Management Council for full details.