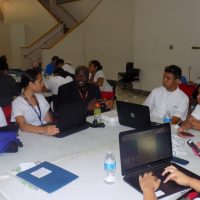 Governor Lolo Matalasi Moliga today told 80 students from private and public schools to take ownership of the future.
The governor was the keynote speaker for the 7th annual Close Up Foundation Youth Summit which started this morning at the Lee Auditorium.
Play Audio
Governor Lolo encouraged the students who are considered the cream of the crop from their respective high schools to take advantage of the oportunity that Close Up provides, to learn about the workings of their goevrnment.
They will learn about the functions of the American Samoa Legislature, the executive branch and Judiciary.
Director of Education, Dr. Ruth Matagi Tofiga acknowledged the Governor, and the Close Up Foundation representatives, Mr. Michaal "Kofi" Boetang and Michelle Gross who are here for the three day event.
The DOE Director issued this challenge to the Close up participants.
Play Audio