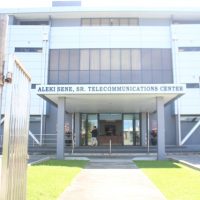 It was announced last week that the American Samoa Telecommunications Authority had signed a new agreement with Hawaiki Cable, a new submarine cable linking Australia and New Zealand to Hawaii and
mainland United States with spurs to American Samoa and other Pacific islands.  
KHJ News sought details about the new agreement from ASTCA Executive Director Puleleiite Tufele Liamatua Jr .
The previous ASTCA Board of Directors had signed a 25 year MOU with Hawaiki Cable.
Puleleiite said the original agreement provided 10 gigabits per second but the new one increases the capacity to 200Gbps on day one, with an opportunity to add on an extra 100Gbps later down the line.
According to the ASTCA boss, the increased capacity gives them  the ability to resell bandwidth capacity to  neighboring Pacific Island countries.
Puleleiite points out that the 190 percent increase in bandwidth capacity  with Hawaiki Cable was negotiated within the same terms and costs as the previous agreement.
It was mentioned in the ASTCA press statement that a mix of local and federal sources were being committed to funding the costs of ASTCA joining the Hawaiki Cable.
KHJ News asked Puleleiite to elaborate on this.
He said, "We're not ready to comment on this subject at the moment because negotiations are still in progress.
"Once this process is complete, ASTCA will notify the public.
He adds ASTCA does not publicly display its financial partnership information.
Puleleiite said in an earlier interview with KHJ News that ASTCA was also signing on to the Tui Samoa Cable, a new submarine cable connecting Samoa.
Given ASTCA's financial woes, Puleleiite indicated that the company overseeing the Tui Samoa Cable would be asked to perhaps delay lease payments for at least 6 months.
Asked if the company has agreed to ASTCA's proposal for financing, Puleleiite said "no but negotiations are still in progress."
He declined to disclose details of ASTCA's proposal to the Samoa Submarine Cable Company "because of sensitive information within the agreement."
But he assured that when the agreement is finalized, the public shall be notified.