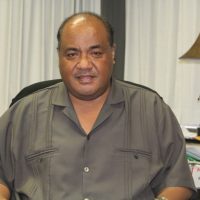 The American Samoa Telecommunications Authority is replacing old and faulty equipment which caused periodic outages or slower than usual internet services over a week ago.
On Friday, September 29 internet was out for more than half an hour. Phone lines were also down.
Executive Director of ASTCA, Puleleiite Tufele Liamatua Jr.,  said the outage was due to an internal power failure which caused caused aging equipment to shut down.
He said they have since replaced old and faulty power sources with newer equipment, and will continue to look for similar areas of weaknesses to avoid similar outages in the future.
Asked about steps by ASTCA to prevent the reoccurrence of internet outages, the Exeutive Director said, "We're implementing policies and procedures that weren't there before, on how to minimize the down time, and insert redundancy plans to recover the network as quick as possible.
He pointed out that outages are common issues with telecommunications and added, "As you know, Bluesky experienced a worse and unreported issue a couple of weeks ago when their voice and internet services were down for several days during one outage. These things happen. "
During the outage on September 29, LBJ Hospital phone lines were down and the hospital resorted to announcing Bluesky cell phones for people to use.
We asked Puleleiite if there's any solution on the horizon to at least guarantee continuous service for emergency response.
He told KHJ News that ASTCA is working with various agencies and departments of the government on redundancy plans in case of an emergency.
ASTCA is also in the test phase of its own VoIP PBX solution, or switching gear, that it may offer to replace LBJ's PBX solution, now in use.
KHJ News put it to Puleleiite that ASTCA used to send out notices whenever there was an outage and an apology to their customers, but that hasn't happened for some time now.
His response: "This is not a true statement."
According to Puleleiite, " On the contrary, ASTCA has never been more forthcoming regarding network outages."
He said ASTCA's new leadership and entire staff today are engaged day in and day out to improve the services we provide to our communities.
KHJ News will report on ASTCA 's new agreement with Hawaiki Cable and the status of negotiations with Tui Samoa Cable in a later bulletin.