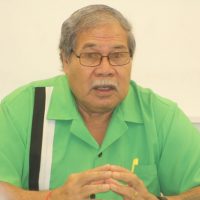 Director of Agriculture, Filifa'atali Mike Fuiava urges a return to land and sea for economic development.
Filifaatali one of the speakers at the inaugural American Samoa Economic Development Seminar at the Lee Auditorium last Thursday, discussed DOA's support of the local farming community to ensure food security and food safety, promote import substitution and sustainable agricultural practices.
He welcomed the Director of the Office of Insular Affairs, Nikolao Pula's statement that he will look at technical assistance grants for the territory's economic development.
He said this will help the Department of Agriculture entice more farming and agricultural development in the territory.
Filifaatali said the funding would be an incentive to encourage residents to return to using land and sea resources to earn a living.
Pula said at the seminar that in reviewing technical assistance grants for American Samoa in the last there years, there were none requested for economic development.
In furtherance of DOA's plan to enhance agricultural development, Filifaatali reported that they will work closely with Samoa's Ministry of Agriculture and Fisheries for the sharing of expertise and resources.