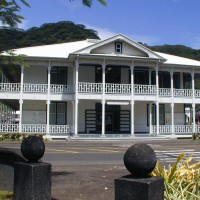 The former warden of the Territorial Correctional Facility, Vaipuna Fo'ifua Jr. appeared before  Chief Justice Pro Tem Elvis Patea yesterday to explain the procedures of releasing inmates from custody.
This was in connection with the case of inmate Henry Satila who failed to appear for a scheduled hearing.
The court was told then that the defendant was released on orders of the court.
Fo'ifua answered a series of questions from Judge Patea which revolved around the procedures used by the TCF to document the release of defendants whose cases are pending in both District and High Court.
Asked if he was aware of the case of defendant Satila, the warden said it wasn't until Police Officer Fa'atoafe  who's in charge of escorting  inmates to court cases informed him of Satila's situation.
The judgeasked Fo'ifua if he had tried to verify with either the court or the legal counsels involved in Satila's case if he was to be released.
Foifua said he was depending on the TCF officer to give him the right information.
However, with the absence of Officer Fa'atoafe who was on leave, there was a miscommunication on his part with the officer in charge that day.
Fo'ifua explained that the TCF clerk keeps a log of the inmates and the dates of their cases as well as their release dates from the  courts.
They depend on these logs to take inmates for their court appearances.
The Warden said he sometimes assists the TCF clerk with the log and knows that there are verbal or written orders from the court for the inmates'  release.
Asked how he's going to prevent a repeat of what happened, Fo'ifua responded that he will do his best to make sure documentation is accurate and the information is verified by asking the court for confirmation if he's unsure.
Judge Patea instructed the warden not to contact the court but to communicate with the Attorney General's Office.
Patea, flanked on the bench by Judge Mamea Sala Jr and Muasau Tofili, also told the warden that the court is not in the business of supervising the executive branch.
Satila who was sentenced back in 2014 failed to appear on a bench warrant that the  court issued after he failed to pay a fine of $1,000 and restitution of $390.