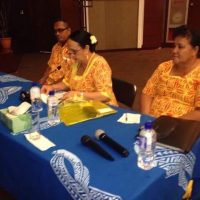 A leading NGO for suicide prevention in Samoa has lamented a deteriorating society of filth, materialism, power and greed that is taking it's toll through suicides caused by domestic violence.
In a presentation at the public hearings of the National Commission of Inquiry into Family Violence yesterday, Fa'ataua Le Ola (FLO) loosely translated as 'Treasure Your LIfe', said that the various forms of violence in the home is a major cause of suicide especially amongst young Samoans.
FLO was started 17 years ago when suicides, especially among young people was on the increase.
FLO President Papali'i Carol Paul-Ah Chong said one reason for this is Samoa is drifting away from the Christianity roots upon which it was founded.
Play AudioFLO-Carol
Papali'i was critical of the practice of giving huge amounts of money, which families usually cannot afford, to various cultural and church events.
She believes this has become a major burden on families which almost always ends up in domestic violence inflicting "so much depression and so much suicide".
Play AudioFlo-culture