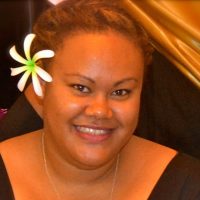 The 2017/2018 Teacher of the Year is Rosalee Tela Shoulders of Nu'uuli Vocational Technical High School.
Shoulders did all of her education in the territory, graduating from Tafuna High School and the American Samoa Community College then obtained her Bachelors and Masters from the University of Hawaii Co-hort Program.
And now she's enrolled in doctorate studies online at Seattle Pacific University.
This is the second consecutive Teacher of the Year honors for Nu'uuli Vo-tech whose Dana Love was the territory's top teacher last school year.
Ms Shoulders, a native of Faleasao, Manu'a, says a teacher has to be in sync with her students and continually come up with waya to make learning fun and interesting.
Play Audio