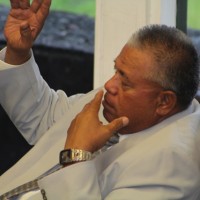 The House of Representatives wants further discussion of a Senate bill which calls for increased jail term for those who are found guilty of misusing and abusing of controlled substances.
Commissioner of Public Safety Lei Sonny Thompson told members of the House's public safety committee that 5 years punishment is nowhere near enough to counter the drug problem.
One lawmaker recommended the death penalty because he said the damage that drugs is so widespread in the territory.
Yesterday, Vaifanua faipule, Lavea L. Palepoi Mauga asked the Chairman of the House Public Safety Committee that the bill be bought to the floor for a vote.
Lavea, noting the launching of the American Samoa Drug Control Commission's program and the seriousness of the drug problem, said tougher punishment would be the Fono's contribution to helping the war on drugs.
The Committee Chairman has called for a hearing of the House Committee of the Whole to review the bill today.