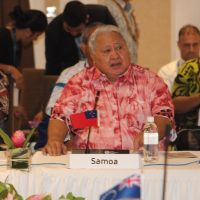 One of the topics covered in the cabinet meeting yesterday was preparations for the 2Samoa talks scheduled for next week.
However Governor Lolo Moliga sent out a memo today advising directors that the talks have been postponed indefinitely.
No reason was given.
But there's speculation that the postponement was related to the health of Samoa Prime Minister Tuilaepa Sailele,
An announcement from the Ministry of the Prime Minister just out says Prime Minister Tuilaepa, Dr. Sailele Malielegaoi has been transferred to New Zealand this morning for further medical checks.
The statetment says this precautionary measure is based upon the medical professionals' advice after initial tests at Motootua hospital.
Tuilaepa was described as being in great spirits prior to his departure and asked the public not to be overly concerned.
While earlier news reports said that the PM was medivaced on an air ambulance last night, KHJ News has confirmed that the plane didn't depart Faleolo until just after 11 this morning.
Prior to his departure Tuilaepa said, "There is no need for the public to be overly concerned.
"As a precautionary measure as highly advised by doctors, I am seeking medical attention in New Zealand.
"On that note, I am looking forward to returning home with a clean bill of health."