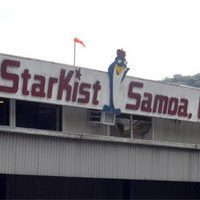 The U.S. Department of Justice and the U.S. Environmental Protection Agency (EPA) have reached an agreement with StarKist Co. and its subsidiary, Starkist Samoa Co., requiring the companies to make a series of upgrades to reduce pollution, improve safety measures, and comply with important federal environmental laws at their tuna processing facility in American Samoa.
Under the agreement, StarKist will pay a $6.3 million penalty and purchase $88,000 worth of emergency response equipment to the American Samoa Fire Department for use in responding to chemical releases.
In July 2014, the American Samoa Environmental Protection Agency informed EPA of a discharge pipeline break at the facility, which was spilling unpermitted wastewater into the inner Pago Pago Harbor.
At that time, EPA began investigating the facility after monitoring reports submitted by StarKist revealed wastewater pollutant levels that consistently exceeded permitted levels.
EPA's investigations revealed that StarKist had changed the composition of the facility's discharged wastewater such that its existing wastewater treatment system was inadequate.
Acting Assistant Attorney General Jeffrey H. Wood of the Justice Department's Environment and Natural Resources Division said "the settlement is a significant environmental win for the community of American Samoa,"
As a result of this action, StarKist has already performed a significant amount of work to correct its violations and we will continue to work together with our partners to bring the facility back into compliance and prevent future violations."
Acting Regional Administrator Alexis Strauss with the EPA's Pacific Southwest Region said, "Today's agreement will help prevent hazardous releases at the StarKist facility, protect workers and the local community, and reduce pollution discharged into Pago Pago Harbor by more than 13 million pounds each year.
In addition to wastewater violations, EPA also found StarKist was improperly storing ammonia, butane, and chlorine gas, which the facility used on-site for refrigeration, operation of forklifts, and disinfection.
The federal Clean Air Act requires companies to operate safely in order to prevent releases of hazardous chemicals that can harm workers and the surrounding community.
The agreement requires StarKist to improve the facility's ammonia refrigeration system and discontinue using chlorine gas and butane, which will greatly reduce the risk of hazardous substance releases
To prevent oil spills, Starkist is upgrading four large above-ground oil storage tanks containing diesel oil, used petroleum oil, and food-grade oil—a byproduct of fish processing.
The four tanks, located only feet from inner Pago Pago Harbor, were found to have inadequate secondary containment structures as required by the Clean Water Act.  In its own audit, StarKist identified additional problems, including violations of hazardous waste management and notification regulations, and disclosed them to EPA.
The proposed consent decree, lodged in the U.S. District Court in Pittsburgh, Pennsylvania, is subject to a 30-day comment period and final court approval.
Starkist President & Ceo Andrew Choe said StarKist is committed to American Samoa and its people by being a socially responsible company and doing the right thing.
Our company is committed to investing in the technology and equipment needed to address compliance issues at the StarKist Samoa plant. While this process is long-term in nature, we will continue to work closely with the EPA as we focus on these improvements until we meet and exceed compliance and environmental performance laws and standards."
In addition to facility improvements, StarKist offered a training session in American Samoa with the National Emergency Response and Rescue Training Center (NERRTC) in July, and has met with the American Samoa Department of Homeland Security (AS DHS), the Territorial Emergency Management Coordinating Office (TMCO), Local Fire Department Hazardous Materials Team, and other first responders.
These forums have allowed StarKist to identify emergency response equipment needs within the territory.
As a result, StarKist will purchase 12 protective suits and 12 self-contained breathing apparatus (SCBA) units to support American Samoa's emergency response efforts.
A copy of the proposed consent decree is available on the Justice Department Web site at www.usdoj.gov/enrd/Consent_Decrees.html (http://www.usdoj.gov/enrd/Consent_Decrees.html) .