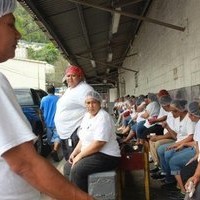 Employees of StarKist Samoa are talking about an extended shutdown next month but their employer is not letting out much information about it,
Two senior employees told KHJ News that they've learned about the shutdown since last month and are nervous about how long it will last.
They've heard 2-4 weeks and its related to installation of equipment for the disposal of tuna wastes.
We have sent several emails to StarKist headquarters in Pittsburgh seeking information about the shutdown but have been told that the company is not ready to discuss details.
Senior ASG officials say they have been made aware of the cannery's plans and it appears that the shutdown is necessary for installation of equipment that the US EPA is requiring the Satala plant to have.
Cannery employees have gone one week without a paycheck two weeks ago due to a shortage of fish and this came right before the start of the school year when parents had to buy school uniforms and supplies for their children.
Now they are nervously awaiting word on just how long they will be without a paycheck next month.
Since the majority of employees at the cannery are from Samoa, they qualify for the New Zealand annual quota of Samoan citizens allowed to travel and reside in New Zealand as long as they have a job.
KHJ News has learned that the recent quota included several applicants from American Samoa but it could not be ascertained whether those applicants are cannery employees.
The fruit picking program that citizens of Samoa qualify for in New Zealand and Australia also offer an alternative choice for cannery employees looking for work.