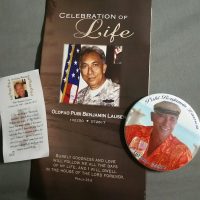 Senator Taua'a S. Vaouli who once headed the local Office of Veterans Affairs introduced a resolution to acknowledge the service of a veteran of the US Army Reserve and former Junior Recruiter Officer Training Corps (JROTC) Program, Operations Manager, Olopao Pubi Benjamin Lausen.
Olopao passed away peacefully on July 28th surrounded by his loved ones in Las Vegas, Nevada.
A memorial service for Olopao was held last Wednesday at Fogagogo Beach where he lived with his wife Lupelele.
He attended Marist Brother's Elementary School and continued his secondary education at Chanel College in Samoa until he returned home to Samoana High School where he graduated in 1969.
From a very young age, the late Olopao knew his passion was to serve others and the miliatry provided the avenue to fulfill his calling.
Joining the US Army straight after high school, Ben served as an infantryman in the Vietnam War in two separate campaigns before becoming an Army Recruiter of the Pacific Basin where he earned the Gold Recruiter Badge with three sapphire stars for his excellent service.
His extensive military service included a period of serivce at the US Embassy in Greece.
As a serviceman, he pursued higher education earning a BA from the National University in California and from the University of Phoenix.
Olopao was active in several organizations.
He was a President and member of the International Lions Club,  a former President and member of the Miss American Samoa Incorporation and a steering committee member of the FIFA Football International.
The Senate resolution describes Olopao as a man of faith.  He belonged to the International Community, Holy Family Parish, Fatu-o-Aiga.
He is survived by his wife Lupelele, 8 children, 19 grandchildren and 2 great grand children.