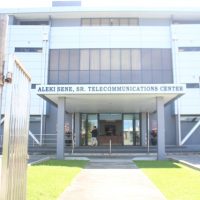 A member of the Board of Directors of the American Samoa Telecommunications Authority, Mrs Alofagia Nomura,  yesterday tendered her resignation to Govenror Lolo Moliga.
Mrs Nomura has been a board member since 2013 and was reappointed by Governor Lolo to the current board in April.
She and Vice Chairman Faiivae Iuli Godinet were the only members of the former board to be re-appointed.
However yesterday morning, Mrs Nomura submitted her resignation to Governor Lolo.
Reached today, she would only confirm that she has resigned but declined to give further comment.
In her resignation letter she thanked Governor Lolo for appointing her to the board but said she feels she can no longer be effective in her role as a board member.  Therefore she was resigning effective, September 11.
Mrs Nomura wished the governor well in his endeavors for the betterment of the territory.
KHJ News understands that Mrs Nomura has been relentless in questioning decisions by Puleleiite Tufele Li'amatua Jr., who has been both Chairman and Acting CEO of ASTCA.
Decisions such as hiring former BlueSky employees and letting go of key personnel that ASTCA has depended on for years such as former ASTCA CEO Alex Sene Jr.,and his brother Karl Sene,  about ASTCA paying for the contract of Aoee Adolfo Montenegro and the apparent sidelining of the ASTCA board while the shots are being called by Governor Lolo Moliga.
Also yesterday, Governor Lolo appointed Andra Samoa to replace Puleleiite on the ASTCA Board of Directors.
Ms Samoa is a former CEO of the American Samoa Power Authority and is currently spearheading  community based activities in her village of Leone.
Puleleiite's resignation from the board is an indication that his interim role as CEO of ASTCA may be drawing to an end while he aims to become the permanent CEO of the government's phone company.
A source at ASTCA says for now the vice chairman, Faiivae Iuli, is acting chairman of the ASTCA Board.