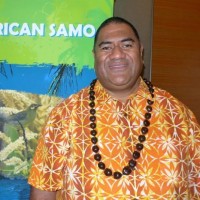 The American Samoa Visitors Bureau didnt get the usual barrage of questions that it attracts every year at the budget hearings.
Yesterday, Executive Director David Vaeafe's inability to speak Samoan seemed to be the only point of consternation.
Senator Fonoti Tafaifa was perturbed that after 8 years the New Zealand-born head of the ASVB was answering questions in English rather than Samoan.
Vaeafe tried to explain that he understood Samoan perfectly but couldnt speak the language.
Deputy Director Vaitoa Hans Langkilde explained this in Samoan
The ASVB budget is down to $676,000 for six employees. In the current fiscal year the budget is $751,000.
Fonoti asked how much money was generated from visitors to the territory.
Vaeafe said they didn't have this data but an air visitor survey has just been completed and the results should be released in early November,.
Vice Speaker Fetu Fetui enquired about cruise ship visits to Manu'a.
Play Audioasvb-2017-BUDGET-1