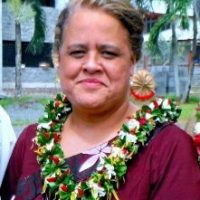 The American Samoa Community College (ASCC) plans to open it's multi purpose center next month and the new building is the venue for the ASCC Fall graduation.
Paramount Builders was supposed to complete the $6.2 million building more than a year ago.
When ASCC President Dr. Rosevonne Pato went before the Joint Budget Committees for a review o f the ASCC FY2018 budget, Senator Fonoti Tafa'ifa' asked her about the status of the multi purpose hall.
Dr. Pato said the facility is ready and it would hold the college 67th commencement ceremony this coming fall.
The hall will become the hub of the college's student services division with its offices and associated services housed in the same building.
The green or energy efficient complex has an auditorium for academic activities and performances, a student lounge and facilities for events and conferences.
It was designed by the Honolulu firm, Clifford Planning & Architecture, and is laid out to be in harmony with the existingASCC infrastructure particularly the fale Samoa which faces the building and the malae on the other side.