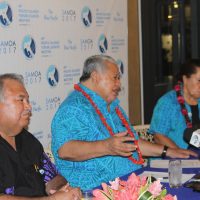 American Samoa is well ahead of other Pacific islands in protecting the environment.
While we have had a law banning plastics for several years, and clean up of streams happens regularly, it was evident from last week's meeting of the Pacific Island Forum Leaders that some islands are taking little action on this front.
Protection of the environment was one of  the main agenda items at the 48th PIF Leaders meeting.
Member countries agreed to act as one Blue Continent in the protection of their natural resources, environment, culture and livelihoods.
And in the conference communiqué leaders committed to fast track development of policies to ban the use of single use plastic bags, and Styrofoam packaging and called on Pacific Rim partners to join and commit to action on addressing marine pollution and marine debris.
Chairman of the Forum, Samoa Prime Minister Tuilaepa Sailele summed up the commitment of leaders to take action now on plastics.
Play AudioPIFS-plastic