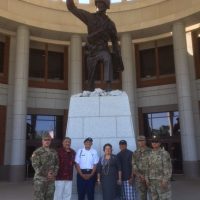 Congresswoman Aumua Amata witnessed last Friday a graduation ceremony for Private Noah Laau Aitatoto who successfully completed the Advanced Individual Training at Fort Benning, Georgia.
The ceremony was followed by a tour of the Fort and a special visit to the National Infantry Museum, where the congresswoman's father, Governor Peter Tali Coleman, is the only American Samoan inductee in the Hall of Honor.
Congresswoman Aumua said, "We have a proud tradition of uniformed service in American Samoa, and I'm so pleased to welcome Private Noah La'au Aitaoto to the next step in his Army career,"
"Congratulations to him on this accomplishment and his hard work, and thank you to his proud family. I know all of American Samoa appreciates each of our service men and women who honorably serve in a uniform of the United States military."
Also attending were the graduate's  father Dr. Naseri Aitaoto.  American Samoans on the base, included Phil Maine Manuma (Pago Pago), Mumaina Lagai (Vailoa), Ali'ioaiga Lesi'i (Ta'u), and Toloa'i Sosene (Amalu'ia).
The congresswoman appreciated Brigadier General Christopher Donahue's tour of Fort Benning's extensive facilities, during which he took time to point out her father's name in the Museum's Hall of Honor.
Aumua said, "Seeing the name Peter Tali Coleman at the Museum was a special moment for me," "Fort Benning has an important mission training up leaders in the Army and in their lives after service, and they go about it with dedication and professionalism."