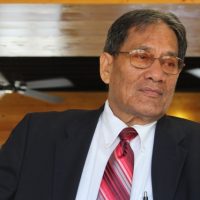 The Fiscal Year 2018 budget hearings  are expected to wrap up on Friday and there's a general expectation that the governor will get his basic budget request approved without much change.
However it's hard to predict what the Fono will do with regards to the supplemental budget request which is all contingent on passage of the revenue measures now before the Fono.
This morning the House continued hearings on the 7% sales tax.
None of the measures have been approved by the House, which has received several requests from members of the business community and residents for an opportunity to express their opinions on the bills.
The Senate meanwhile has approved in final reading  the bill updating the tax table.
Tomorrow the Senate is holding a hearing on the bill to establish an alternative minimum business tax.
A story aired by KHJ News that the Senate had approved this bill was not correct.
Another bill which is causing a lot of concern among the private sector is the bill to increase wharfage and dock fees.
Some are questioning how the fees were set without any public hearing to discuss them.
According to the bill, moving vessels in the harbor will be $170, up from $100.
Anchoring fees will also be hiked from $100 to $170, for each anchoring.
If a pilot is needed, the vessel would be charged $127.50 per hour, up from $75 per hour.
If a pilot is needed to accompany a vessel, the fee is $85 instead of $50 as it is now.
A pilotage fee of $17, up from $10 will be applied for light draft vessels not requiring a pilot.
For yachts, there's no pilot fee for yachts less than 12 foot draft, unless services are actually performed.
These fees are set at $17 per foot.
Yachts over 12 feet draft shall be charged $8.50 per foot for yachts that don't require actual services.
Yachts over 12 feet that require actual pilotage shall be charged $17 per foot.
The base rate for pilot tow fees would be $85 for all vessels and $5.10 per foot for all vessels over 12 feet.
No word on when the House or Senate will hold hearings on this bill.