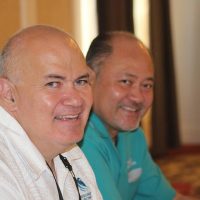 The American Samoa Government has now submitted a proposal to the Samoa Submarine Cable to become part of the Tui Samoa Consortium.
This was confirmed by the chairman of SSC Pepe Fia'ailetoa Fruean who told reporters that a proposal has been received and they are looking at its implications.
Play AudioPepe
Pepe said it's a start and that SSC had been actively promoting the partnership as a means to unite both Samoa with mutual benefits.
Asked if there was a suggestion from ASTCA for SSC to assist financially with funding their participation, Pepe said there was no suggestion of that in the proposal received but he did not rule out any assistance if sought from prospective partners.
Play AudioSSC