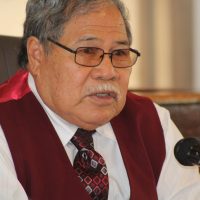 Director of Agriculture, Filifaatali Mike Fuiava, testified at budget hearings today that local crop production for staples such as taro is sufficient to meet demand.
He said the only problem is that farmers have realized their prices and he's asked that they not become millionaires overnight but to consider the needs of the public.
According to Filifaatali some are charging $20 for 5 taro.
The director's statement that farmers are able to supply the local market contradicts what one of the biggest taro producers in the territory,  stated at a meeting of farmers two weeks ago.
Atualevao Asifoa said at the meeting that local farmers cannot meet the demand for taro.
He suggested however that suppliers in Samoa, be required to wash their taro before sending them here just like they do for taro exports to other countries.
As a result of an unidentified disease which broke out in taro plantations in parts of Upolu in May, Filifaatali moved to suspend temporarily all taro and taro shoots from Samoa, until tests to identify the disease were conclusive.
Filifaatali held preliminary meetings with counterparts in Samoa last week and will be going again to Apia this Thursday for another round of discussions.
He's traveling with two scientists from the Land Grant Division who will be doing analysis work on the affected taro.
Aunuu faipule Vaiau Kitara suggested that there was not enough taro here and Agriculture should allow taro from Samoa back in.
Filifaatali's said DOA's responsibility is to ensure that the territory is safe from disease which may affect the territory's livelihood and food security.
Senate President Gaoteote Palaie said he was happy that local farmers are able to meet the demand for taro and supports the move by the Department of Agriculture to let local farmers provide food for the territory.