American Samoa has been endorsed as the venue for the 2019 meeting of the Polynesian Leaders Group.
The offer to host was made by Governor Lolo Moliga at the 7th meeting of the PLG held in Samoa on Monday. Samoa time.
The governor told KHJ News that there was unanimous approval by the nine members of the Polynesian bloc to his offer for American Samoa to host the meeting.
At the Apia meeting, which was chaired by Tonga's caretaker Prime Minister Akilisi Pohiva, members voted to establish the Secretariat of PLG in Apia.
They also approved Wallis and Futuna as the newest member.
A proposal by Samoa to establish a new submarine cable, Manatua, that connects Polynesian countries was approved by the meeting.
However Governor Lolo said American Samoa didn't offer any commitment as the territory needs to study the concept further.
French Polynesia President Edouard Fritch floated the idea of a Polynesian airline that would connect islands of Polynesia and feed tourists from Europe to the region.
However the members have shelved the idea for now.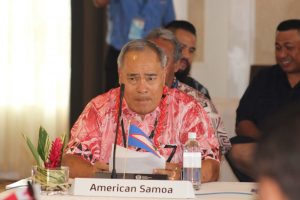 The Polynesian Leaders Group meeting precedes the annual conference of the Pacific Islands Forum, the grouping of independent island countries.

American Samoa has an observer status in the Forum but KHJ News understands that the territory is applying to become a full member.

Governor Lolo, accompanied by Chief of Staff Fiu Johnny Saelua and Assistant Legal Counsel Alema Leota, is staying on for the Forum meeting which was opened last evening and will run till Friday.

The French territories of New Caledonia and French Polynesia were accorded full member status last year.

Tags: