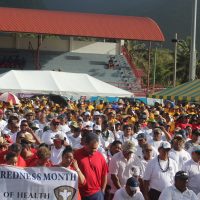 The keynote speaker for the 2017 Workforce Appreciation Day, Utu Abe Malae, Executive Director of the American Samoa Power Authority said it's a blessing to be gainfully employed and have a job.
He thanked workers who filled up the field at the Veterans Memorial Stadium for what they do, and made special mention of those who work with their hands, who toil in the hot sun and rain, with sweat on thei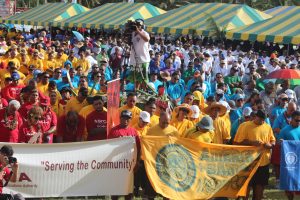 r brow
Utu told the crowd about a New Zealand construction company in Guam which hired 3,000 Samoans to build hotels there.  The Samoan workers were praised for their respect of supervisors.
And the Human Resources supervisor of a company in Mississippi who wants to hire more workers from American Samoa.
Utu said that jobs dont just happen…they are created through economic development.
He said while the government and fishing industry have been the pillars of our economy, some new economic activity is needed.
He said we are taking incremental steps with tourism.
Utu then turned to the health care system and said health services needs to be improved so we can entice retirees from the states to return home.
The ASPA told the assembly, education and training for the workforce must be  enhanced and said steps are already taking place to overhaul the education system.
Utu also talked about the need to place some order in the layout of the most populated district of the territory, Tuala-uta.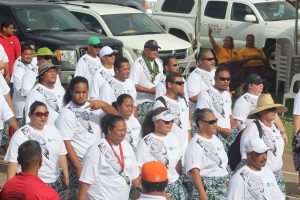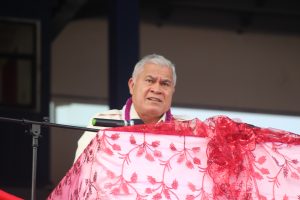 Utu said that Tuala-uta District needs attention and urged planners, civil engineers and political leaders  to invest some time to address proper zoning, and infrastructure for Tuala uta.
The ASPA boss also had a message for matai and those in leadership.  He said they should set an example for their family members or those under their leadership  They  should serve and work for the interests of heir families and not for rewards.
Governor Lolo Moliga also expressed appreciation to everyone in the ASG and private sector workforce for their service in whatever job they hold.  He also urged that they serve the public with dedication and honesty.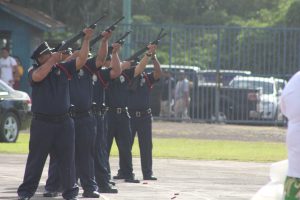 Lolo called for a minute of silence to remember victims of Hurricane Harvey and informed the workforce that the territory will hold a fundraiser to help those those stricken by this natural disaster. He noted that Texas is home to many Samoans.
A moving moment was when the names of government employees who have died since last year's Workforce Appreciation Day was read by the emcee, Chief of Staff,  Fiu Johnny Saelua.  And a police squad fired a gun salute into the sky.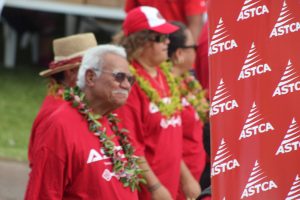 The parade of government departments and a few companies illustrated the size of the ASG workforce.

The semi independent authorities, like LBJ, ASTCA , ASPA and the American Samoa Community College, had just a  few divisions at the stadium, while the rest were working,  Fono employees also marched.

The only branch of the government that was still opened for business was the Judiciary. Cases continued in District Court and the High Court

Businesses who marched  include McDonalds, Paramount Builders,  Nana's, Tutuila Store , Manu'a Store and  Happy Trucking and Construction.

After the parade, the authorities and businesses returned to work while ASG employees played games, then watched entertainment by senior citizens of TAOA and employees of Nana's Company.

Paychecks were also distributed at the stadium.

Tags: