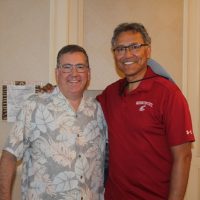 The President of Washington State University Kirk Schulz says there's opportunities for WSU's newly opened School of Medicine to educate and train American Samoans.
A WSU delegation arrived Wednesday night and is today visiting the LBJ Hospital and also having discussions with the American Samoa Community College.
The group, which includes WSU alum, former NFL quarterback,  Jack 'the throwin Samoan' Thompson, head to Samoa tomorrow.
Schulz says WSU is ideal for students from American Samoa because of its family atmosphere.
Play Audio
Tags: