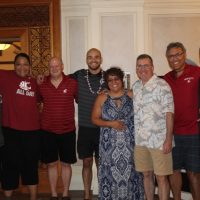 The President of Washington State University in Pullman, Washington, Kirk Schulz, is leading a six-member group to promote programs available at the university particularly their new School of Medicine which has just opened.
Retired NFL star, Jack Thompson aka the 'Throwin Samoan," a WSU alum and his son Anthony, a graduate of the WSU School of Business, are in the delegation.
Others are vice president Maryjoe Gonsalez , Chief of Police of Pullman, Gary Jenkins and Philip Sinapati, the multi cultural advisor for the Office of Student Affairs.
The group met with the governor and lt. governor this morning at the Army Reserve Center where a cabinet meeting focusing on emergency preparedness was taking place.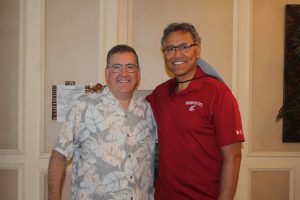 Meetings with the LBJ  Hospital and  the American Samoa Community College will be held before the group heads to Apia on Saturday.

President  Schulz explains why he felt it was important that he make the trip here.

Play Audio

President Schulz and his team will host a dinner for WSU alumni and their families at 6pm tomorrow at the Tradewinds Hotel to cement the strong ties between the university and American Samoa.

Tags: