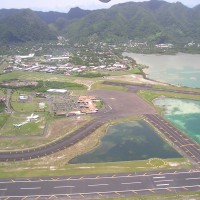 Congresswoman Aumua Amata  has received word from the US Department of transportation that it is awarding a $3 million revitalization grant for Pago Pago International Airport.
The DOT funding of  $3,027,755 is designated for the runway rehabilitation project at Pago Pago International Airport.
The congresswoman said, "I welcome the continuing financial support for this important project.
American Samoa depends heavily on airport access that can support long-distance travel, and revitalization efforts help ensure a great airport for the future."
Aumua expressed appreciation to USDOT for recognizing the importance of this infrastructure to the territory,
She also expressed her gratitude to Port Administration Director, Taimalelagi Dr. Claire Poumele, and staff for their efforts.