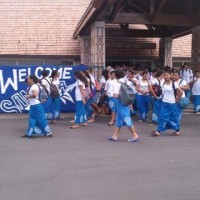 Governor Lolo Moliga is reported to have endorsed a plan by a subcommittee that's been looking at ways to stop the proliferation of drugs in to the territory.
The group, which comprises directors and deputy directors and staff of several government agencies met with Governor Lolo Moliga Friday.
Manu'a District Governor Laolagi Vaeao said the governor had asked the subcommittee to incorporate drug prevention plans into their plan of action.
At the meeting on Friday, Lolo asked that the group identify how the success of their plan can be measured.
He felt that this was missing from the group's strategy.
Laolagi said their subcommittee made a suggestion that was agreeable to the governor.
If a survey of substance abuse shows X number of students have experimented with or are using alcohol or drugs, and the same survey is conducted again next year and the numbers go down.
Then that's evidence their initiatives on preventing drug use are working.
Laolagi said a key driving force in the subcommittee's work is to prevent drug use among our children and their course of action includes identifying how drugs are entering the territory,  the sellers and the methods of distribution.
In addition, the plan calls for rehabilitation programs to wean addicts off  their chemical dependency.