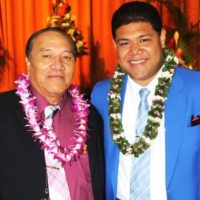 Members of the House of Representatives are on a fact finding mission to the State of Hawaii Department of Taxation, to learn how the successful Hawaii tax system is structured and how the Territory can best amp up their revenue collections efforts.
This is in light of the administration's revenue package which includes a controversial 7% sales tax.
Leading the delegation are the House Ways and Means Chair Rep. Lavea Legae'e Mauga and Chairman of the House Budget Committee, Rep. Vailiuama Steve Leasiolagi.
They are joined by House Speaker Savali Talavou Ale, Rep Sam Meleisea, who is also a member of the ASEDA board, and Rep Vesi Fautaunu Jr.
House Staff attorney Nathaniel Savali is also on the delegation.
The group held a meeting yesterday with the Hawaii Tax Department and will continue discussions with the tax agency today , and also meet with the Hawaii Department of Transportation.
Its expected that other House representatives and Senators who were in Hawaii or the mainland will be joining today;/s meetings.
The chairman of the House Budget and Appropriations Committee Fagatogo faipule Vailiuama Steve Leasiolagi said last week they
will look at the most effective tax management software that the 50th state is using.
They will also be looking at the state's  sales tax system.