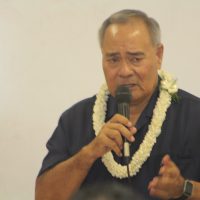 Some members of the cabinet have received warning letters from Governor Lolo Moliga.
This was revealed by the governor himself at a cabinet meeting this morning.
The governor didn't mince words when he laid out that he and the lt. governor expected directors to carry out their duties and ensure that what the public was promised, that is getting the best service from this administration, would be realized.
He sternly told directors it appears that some have the attitude of just cruising and occupying the directors seat until the end of this administration.
He had this message for those with this mind set.
Play Audio Gov-on-director
Lolo told the cabinet he has sent some of them warning letters, adding that many times the directors cant be found in their offices, either they're off island or somewhere else.
He added that he and the lt governor do not have any intention of leaving a government that is worse off than when they came in.
He said they had made it clear to directors at the start of this administration the first term was easier than the second one.
And they will not renege on their promise to the people to make improvements and raise the peoples standard of living.
Play Audio
The governor said they had set out in this term to do great things for the people, things that have never been done before so that there is a solid foundation for the territory.