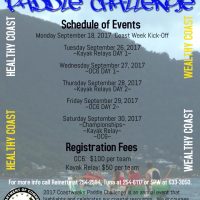 Registration is now open for the 2017 coast weeks Paddle challenge next month.
This year's Paddle challenge in celeraiton of healthy coasts, wealthy coasts is set for the week of September 18,
AioletunaSunia , Public Awareness Coordinator for the American Samoa Coastal Zone Management Program at the Department of Commerce says they are now accepting registrations for the 2017 paddle challenge,
The Coast Weeks celebration has been a catalyst in getting people who have never paddled before , into the groove.
The event brings together a mix of Government, private sector and community teams in friendly competition at sea and this year should be no different..
Kayak relays will be alternating with canoe races from September 26 to the end of the Paddle challenge concluding Coast weeks 2017 on September 30
You can register now at DOC  …the fees are $100 for a canoe team and $50 for a kayak team.