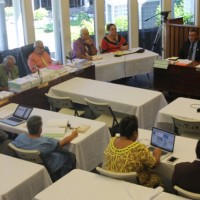 Budget Director Cathy Saelua says the ASG budget request for Fiscal Year 2018 is now at the final stages of printing and should be delivered when the Fono is back in session August 21st.
She says the final budget requests to be submitted are from the LBJ Hospital and the American Samoa Community College.
Saelua explains that printed budget books will be going to the Senate only, while the House of Representatives will receive the budget proposal on CDs.
This was the same arrangement with the budget last year.
Usually the budget is the main legislation discussed in the second Fono session of the year, however there are already five administration revenue measures now before the Fono.
There was no indication from the Fono leaders prior to the recess about how the Fono hearings will be conducted this year.
Both the Senate President and Speaker of the House have been off island.
And were photographed at the All Samoan Invitational Golf Tournament in San Diego.
Both were on ASG travel authorizations.
Others seen on the course and also on TAs are Senators Saoluaga Nua and  Miasaalefua Hudson and Rep. Fatulegaee Mauga.