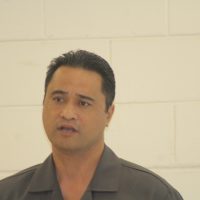 The Chairman of the ASG Revenue Task Force, Attorney General Talauega Eleasalo Ale, gave some strong statements at today's cabinet meeting concerning those who are objecting to the governor's revenue generating proposals.
The normally soft spoken and collected AG, appeared agitated when he addressed the cabinet about those, who instead of coming forward with suggestions to improve the governor's proposals, are throwing out criticisms in other quarters.
The AG told the meeting that the Lolo and Lemanu government has made significant achievements and the revenue package is one of the milestone initiatives by this government.
He said no other administration has put together a plan on how to generate funds to finance ASG.
Talauega said when the Fono resumes on August 21st, it will review five pieces of legislation intended to rake in revenues for ASG.
He told the cabinet the legislative package represents the wish of the governor and the lt. governor and a lot of thought and effort, from some bright minds, have gone into it.
He said if any one has suggestions on the measures, "don't hold back, come forward. Don't go to talanei or the newspaper and say the governor's measures are bad or wrong."
Talauega said the proposals include measures to return money to tax payers such as removing the 2% wage tax, abolishing the 5% excise tax on commercial goods and upgrading  the income tax tables.
With regards to the 2% wage tax, Talauega drew this scenario: If you make $10,000 a year, right now the government is taking $200 from your salary annually…and you have no say in the matter.
The wage tax takes out $400 if you make $20,000.
Directors who mostly earn $60,000 upwards lose $1,200 to the government through the wage tax.
But if the new bills are approved, Talauega said those deductions from the 2% wage tax would be retained by the wage earner.
"The wage tax was not a fair tax because only those who are on the payroll pay it, while many who are paid under the table or set their own salaries without any paperwork don't pay it," the AG claimed.
He called for everyone's support in getting the governor's proposals passed and he urged directors to lobby with representatives and senators in support of the revenue bills.