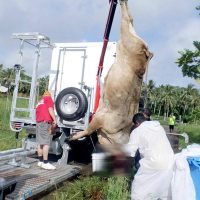 Povi masima, pork sausages and fresh steak used to be what local residents would bring back from Samoa when they visit…or relatives would bring as oso (gifts) from Apia.
But in the late 1980s the United States Department of Agriculture determined that all meat imports from Samoa, including those for personal consumption would be banned from the territory.
Before that individuals were able to bring uncooked meat, and pork from Samoa for personal consumption.
The USDA said that Samoa first needed to set up an abattoir meeting USDA standards to slaughter cows and pigs.
Until then all meat imports from Samoa are banned.
Now, Samoa is close to setting up an abattoir, which would make meat exports to American Samoa possible.
Minister of Agriculture, La'aulialemalietoa Leuatea Polata'ivao Schmidt, confirmed that cattle farmers in Samoa may soon have a modern abattoir that the government hopes will help improve their chances of exporting beef to American Samoa
He said in Parliament that negotiations with the World Bank to fund the project should be finalized in the near future.
The minister said construction of the abattoir at Nu'u should start before the end of the year, with $ST3 million from the World Bank allocated for the project.
According to a government release, this will improve hygiene for meat for domestic consumption and ultimately satisfy international quarantine regulations.
And it looks like farmers will be forced to use the abattoir to slaughter their cattle.
According to the minister, when completed the facility will take over the processing of all meat products, from poultry, pigs, cattle and lambs before they can be sold commercially.
He warned that any meat which is not processed by the Central Abattoir will be banned from the commercial market in Samoa and abroad.
The minister hopes this move will help revive the meat export industry.
Laaulialemalietoa says so far, Samoa's markets are restricted in the region with Cook Islands and Tonga as two main outlets but the ministry is looking at lucrative outlets in the United States via American Samoa.