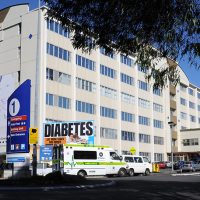 The American Samoa Medicaid Program has received approval from the Center for Medicare and Medicaid to reimburse directly hospital providers in New Zealand and the US.
The American Samoa Medicaid Agency worked with CMS over the past three years to develop another avenue to reinstate effective access to off -island medical referral services for the territory.
Previously, off island medical services could only be reimbursed through the LBJ Hospital.
With the newly approved State Planning Amendment submitted by the Medicaid agency, the Medicaid program will now be able to reimburse off island medical services directly to off-island hospital providers.
A press release from the Governor's Office says, "More importantly, reimbursement has been made possible for New Zealand providers where it is more affordable, closer and daily flights are available via Samoa,."
Governor Lolo Moliga stated, "One of our major health care objectives has finally been achieved.  We must now turn our attention to work with the Fono to identify the local funds to fully reinstate the off -island medical referral program.
"I feel confident that the Fono will help us make that happen.  More importantly, our Delegate to Congress must get the federal Medicaid funding stabe whether by extending the ACA funding availability or by lifting or increasing our Medicaid cap.
"If she does not achieve this, we may have to terminate the off-island program again after 2019."
Governor Lolo added, "This breakthrough will allow our chronically ill patients to access medical treatment not possible at the LBJ Tropical Medical Center due to limited capacity constrained by the availability of specialized equipment and medical specialists to provide intensive treatment regimens. It will also afford the opportunity to the LBJ Tropical medical Center to focus its attention on building treatment capacity to less critically ill patients."
The Medicaid agency is currently developing internal program policies and procedure for the implementation of the off-island program.
It must first contract with of island providers to accept eligible Medicaid patients from American Samoa.
Medicaid Director Sandra King Young stated, "Much more work remains to operationalize the off island medical referral but the governor has set a timeline to fully reinstate the program by the new fiscal year.  It has taken a long time to get us to this point and now that we have this new authority to implement the off-island medical referral program, CMS expects the territoryt o fully implement the program according to federal standards."