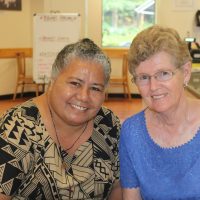 It's been a trip down memory lane for a volunteer teacher from California whose been visiting  the all girls Catholic school where she taught more than 30 years ago…Faasao High School.
Mrs Mary Ellen Nolann Dunne was barely 30 when she arrived here to teach Business, Math , English and Social Studies at the school in Lepuapua.
She's now 72 and has retired from a long career of teaching.
Mrs Nolann Dunne arrived here Monday with her son to retrace her footsteps and check up on her Faasao girls.
Play Audio
Tags: