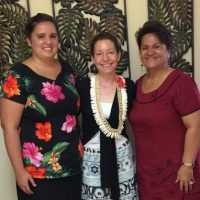 The Executive Director of World Teach, the US based organization that's provided volunteer teachers for public schools in the territory for several years is visiting the territory.
Karen Doyle Grossman is on island, meeting with Director of Education, Dr. Ruth Matagi Tofiga to discuss ways that World Teach can serve American Samoa's educational needs.
Dr. Matagi Tofiga says she has conveyed to Ms. Gorssman that the World Teach volunteers have played a key role in filling the teacher shortage in the territory , and she 's grateful for their support.
The DOE Director of Education has asked the World Teach Executive Director for teachers in the content areas of  English, Math and Science.
Ms Grossman has pledged to work with DOE to meet the need for teachers in these subjects.
Dr. Matagi Tofiga says ASDOE will continue to assist the World Teach volunteers—by classroom mentoring.
World Teach volunteers sign up for one year to teach in public schools in Tutuila, Aunuu and Manu'a,
Some volunteers have returned to work as contract teachers, while others sign up for other jobs in DOE.
A few have also returned to work in private schools in the territory,
According to Executive Director Grossman American Samoa is one of the most desirable placed for their volunteers.
DOE Director Dr. Matagi Tofiga says ASDOE treasures its partnership with World Teach volunteers.
She notes that "with minimal resources, they certainly step in to fill the gap."
Also joining in the discussions was the Field Director for World Teach in American Samoa, Shivan Wolf.