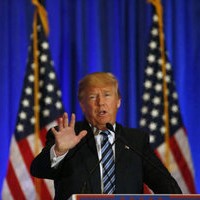 President Trump's first budget proposal is getting 'mixed' reviews on both sides of the political aisle, this week.
KHJ News Washington D.C. correspondent Matt Kaye spoke with American Samoa's Congresswoman Aumua Amata Radewagen
Radewagen agrees with her colleagues in both parties—when it comes to spending, it's Congress that controls the purse strings.
And politicians of both stripes already say, President Trump's budget blue print that calls for unprecedented cuts in key agencies and programs to pay for a big boost in the military, will not be the same budget that Congress finally passes.
But American Samoa's Radewagen agrees with some of what the president's proposing—
Play Audio
Radewagen points to Congress's approval last year of her request for a change in the education funding formula for the islands, that resulted in a huge, 67-percent boost in dollars for American Samoa's public schools. And further national hikes are likely to garner bipartisan support.
The President's budget meantime, proposes huge cuts in several departments—more than 20-percent at State, Agriculture and Labor…and more than 30-percent at EPA, dumping more than 50 EPA programs and positions at EPA, alone.
Numerous commissions and sub-cabinet agencies would be eliminated.
Amata says she has concerns—
Play Audio
…though the president does propose to cut national parks maintenance, where there's a huge backlog of work…and Radewagen says that would affect the National Park of American Samoa…
Other programs cut or ended: the Legal Service Corporation that helps indigent  clients through American Samoa Legal Aid, the Low Income Heating and Energy Assistance Program or 'LIHEAP' and other fully-funded energy programs run by the Territorial Energy Office.
Also cut or eliminated:HUD's Community Development Block Grant Program that includes housing loans through the Development Bank of American Samoa…and the Community Services Block Grant that helps fund the American Samoa Department of Human and Social Services.
Many more programs would lose, or be privatized like air traffic controllers, to help pay for a $54-billion dollar defense increase to restore what the military brass sees as a much-depleted US fighting force.
And the political fight is only just beginning. Democrats insist they won't budge on defense increases unless they get more for domestic programs,while key Republicans want even more for defense.
Complicating matters, temporary funding for this fiscal year runs out next month, once again raising the specter of a possible government shutdown.