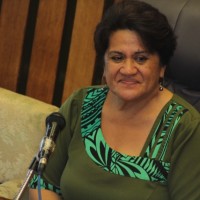 Poor achievement levels of students in public schools was discussed at a hearing yesterday of the House's Education Committee.
Committee Chairman Representative Tu'umolimoli Moliga, a former teacher, suggested that the reason why students in public schools are not achieving the educational standards, is because teachers have low morale
Tuumolimoli said it doesn't matter what degrees the teachers hold, if they are not getting the encouragement and motivation they deserve, their commitment to providing quality education for the children of American Samoa won't meet the department's standard and expectation.
Manu'a Faipule,Vesi Talalelei Fautanu Jr., brought to the director's attention the results of the DOE's recent Math-in-Art and Science Fair Competitions in which the majority of students placed in the top 3 were students of private schools.
Dr. Matagi Tofiga said from her review of statistics, government schools are way below the standards specifically in the contents area.
In an attempt to rectify the situation, the director says she;s just met with the Executive Director of the World Teach Program and asked for assistance in providing teachers who specialize in the main content areas and core subjects as in Maths, English and Science.
She also pointed out that private schools have after school tutoring program carried out by very committed and dedicated teachers.
The DOE director informed the House Education Committee that DOE has now started its own after school tutoring program specifically for literacy.