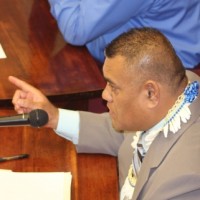 Drugs are on school compounds, hidden in students school bags and this is not a joke" nor "rumor" according to a concerned Manu'atele Representative Vesi Talalelei Fautanu Jr
Vesi was speaking at a hearing of the House Education Committee which was prompted by concerns raised by various faipule.
Director of Education Dr. Ruth Matagi Tofiga appeared before the Committee.
Saole lawmaker Kitara Vaiau triggered the hearing with statements of concern about recent break ins at Leone high School and Leone Midkiff Elementary.
Rep. Fautanu brought up a lot of pressing issues with education including the existence of drugs in schools.
He shared that during a visit to a school that he didn't name, when he asked the school's security why he cannot stop students smoking on campus the security told him there's nothing he can do about this as most teachers also smoke on campus.
Smoking is banned in public places.
The Manu'a representative suggested that all schools have health and welfare inspections where students school bags are searched before entering the schools.
Rep. Vesi said he could just imagine what would be discovered in the students bags if DOE has such inspections.
He suspected that most bags will have packets of cigarettes and he won't be surprised if drugs and guns will be discovered.
Another issue that Vesi brought to the attention of the DOE Director was the shortage of school buses,
He said some students have to get up at about 3am and be on the road by 4:00am so they don't miss the school bus.
For the Manu'a islands, the faipule suggested that vans would be more cost effective than the buses which take several months to get them fixed when they have problems.
Ituau Representative Sataua Dr. Mataese Samuelu, a former high school principal said DOE has been purchasing surplus school buses from the US Government and ASG ends up spending more money maintaining them.
He asked that the department look at purchasing brand new buses.
According to Representative Toeaina Faufano Autele some of the old broken down buses which have been sitting at the DOE depot in Tafuna for years have become breeding grounds for mosquitoes.