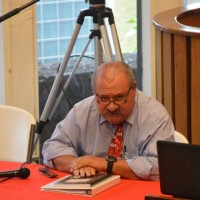 ASG and StarKist Samoa have still not signed a lease for space in the shipyard at Satala to build new fish freezers for the cannery.
StarKist's present cold storage capacity can store fish to last ten days but the cannery says that's far from adequate to meet production levels and sustain a continuous supply of fish even when fishing days in nearby and far away fishing grounds are maxed out.
According to Moefaauo Bill Emmsley , CEO of the Ronald Reagan Marine Railway, ASG and StarKist have agreed to the lease rate.
However he said the cannery has presented additional conditions which ASG needs to review and perhaps come up with their own counter conditions.
He was optimistic that a lease would be signed as soon as the two sides come to an agreement on the conditions.
The Chairman of the Shipyard Services Authority Board of Directors, Keniseli Lafaele, says they hope to sign an agreement soon.
StarKist is to construct a new building for the shipyard to replace workshops at the yard that have to be removed to make way for the cannery's new cold storage.